Venues
Fantasea Yachts Marina Del Rey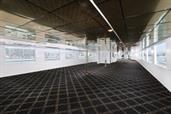 Fantasea One has four decks that allow for a variety of scenery and a spatial progression to your events. Your guests are welcomed aboard the Captain's Lounge complete with a Bar and modern lounge features and a wall-mounted plasma screen. One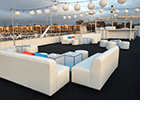 level up, the Admiral Dining Deck, is a formal modern seating space wrapped with huge bay windows. Proceeding upwards, the sweeping expanse of the Party Deck and Bar Lounge welcomes your guests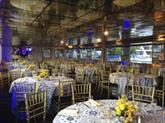 next, replete with a huge dance floor and 360° views of the Marina. Saving the best for last, the Sky Deck crowns FantaSea One - a beautiful open deck with the sky at its ceiling.
125 ft. long
Accommodates 300 Guests
Full Service Event Planning
Exceptional Service
Family Owned and Operated
DANDENA
REGENTSEA
THE ADMIRAL
fantaseayachts.com
310-827-2220
VERTIGO Hollywood
The LOWER LOBBYinvites guests into the building via a foyer that is open and intriguing. Damask wallpaper, a minimally recessed ceiling, and crystal quartz floors combine to create an ambient zone for guests to mingle.
Max Occupancy: 100
Color Focus: Crystal White, Mirror Grey, Piano Black
Features: 16' Full Bar, Lounge Seating for 20
Lighting: Geometrical Glass Chandeliers, 8 Motorized Pint Spots for Accenting
Audio: (6) In-Ceiling 8" Speakers
Other Amenities: Wifi, 70" LED Screen, Elevator Access, Direct Patio Access
The TOP BAR
located on the second floor, is an arresting fusion of organic forms, classically inspired flourishes, and modern structure. Views of both Glendale skylines and lush mountains makes our TOP Bar an oasis for all senses.
Max Occupancy: 100
Color Focus: Concrete Grey, Deep Purple, Shabby White
Features: 16' Full Bar, Lounge Seating for 20
Lighting: Leather Chandeliers, Scorpion Light Art, Edison Bulbed Sconces
Audio: (6) In-Ceiling 8" Speakers
Other Amenities: Wifi, 70" LED Screen, Elevator Access
The BLACK BANQUET
room is edgy in nature, matching something of a forbidden personality. This room is an excellent match for any wedding, bridal shower, baby shower, engagement, birthday, corporate event, or gathering that demands a higher level of panache. In house catering featuring a Mediterranean-Asian-Latin Fusion menu and full service bar.
SHERWOOD COUNTRY CLUB Thousand Oaks
Sherwood Country Club is the perfect location for a Baby/Bridal Shower, Anniversary Celebration, Birthday Party, Retirement Party and many other special events! From small to large, the Club's magnificent surroundings, exquisite cuisine and impeccable service make your party a truly personal event. The entire upper floor of the Golf Clubhouse has been completely redone—with new draperies, carpet, paint, wall coverings and furnishings. What was once beautiful is now simply stunning!
sherwoodcc.com
805-496-3036
SEVEN OAKS COUNTRY CLUB Bakersfield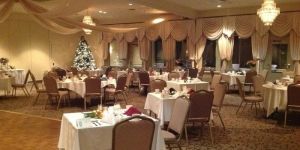 From Wine Maker Dinners and Summer Socials, to elaborate Holiday Festivities, Seven Oaks features something for everyone throughout the year. Our Executive Chef and his Culinary Staff create a la carte dining at its best in a relaxed, but elegant ambience. For an exceptional dining experience, enjoy the Oak Room, overlooking beautiful streams, lakes and waterfalls surrounding the eighteenth green.
sevenoakscountryclub.com
661-664-6404
OHM LA NIGHTCLUB Los Angeles
The OHM patio is the largest of its kind, overlooking Hollywood Boulevard and the famous El Capitan. Asian garden decor and a separate bar create an amazing indoor/outdoor club experience in the heart of Hollywood. Enjoy our bustling music venue with high end clientele, and gorgeous, competent staff.
ohmnightclubla.com
323-337-1315
BRAEMAR COUNTRY CLUB Tarzana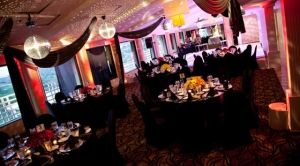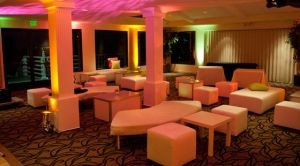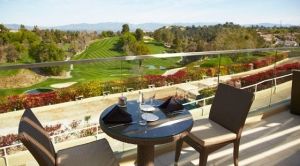 Our luxurious clubhouse has a spectacular view of our magnificent golf courses and the entire valley. With a seating capacity of more than 400, we have the ability to host every type of event—from weddings and receptions to private dinners, anniversary parties and beyond! Our directors and award-winning culinary team take great pride in the presentation of every event held at the Club. The Club has several beautifully appointed private dining rooms that offer stunning views and a graceful ambience for any occasion.
clubcorp.com/Clubs/Braemar-Country-Club
818-345-6520