Poker Night Party Rentals in SCV
Get a Vegas-Style Poker Party Experience!
At Casino Entertainment Industries, we know a thing or two about how to make an event successful. We are a one-stop party shop, devoted to exceeding the poker night expectations of every client we work with. With over 20 years of poker party experience, we can provide you with the services you need to create a unique experience that your guests will remember long after the final hand is dealt.
We offer all our potential customers a complimentary event consultation!
Call us at (800) 524-6259 or use our online form to schedule your poker table rental in Santa Clarita.
Casino-Quality Plush Poker Tables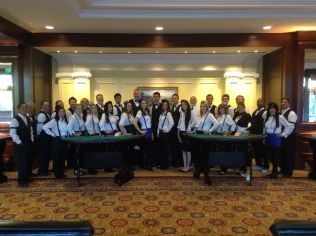 Our extensive inventory and friendly staff, which includes an experienced event planning specialist, can take your poker party to the next level. We can plan out all the details for you, making the entire process a stress-free experience so you can enjoy yourself and have as much fun as your guests!
We will also have a tournament director who will oversee every single detail during your party. Our friendly and professional dealers in Santa Clarita can provide your guests with step-by-step guidance and a pre-game tutorial for all beginners. With our help, your casino night will be the talk of the town!
Our Santa Clarita Poker Party Packages
If you wish to discuss your vision for your poker night with us, we would love to hear what you have in mind. For your convenience, we also offer our clients packages that include catering, live music, and photo booths at competitive rates. We look forward to bringing Vegas to your venue!
Take Advantage Of Our Offers:
Free Event Consultations
Best Poker Dealers Around
Custom Playing Chips
Expert Tournament Director
Big Screen Displays
PA System
Call us today at (800) 524-6259 and speak with our Santa Clarita casino party rentals event specialist to learn about our floor plans, event management services, and rental options.